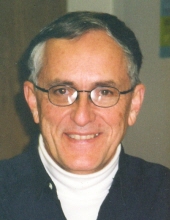 Obituary for Robert F. Brunswick
Robert Francis Brunswick, 78, of Peninsula died of complications from Alzheimer's disease on May 1, 2018. A kind and gentle man, he was born on March 23, 1940, in Akron, to Wilbur and Maude (Walker) Brunswick. He was a 1958 graduate of Kent State University High School, where he formed a lifetime bond with his classmates. He continued his education at Kent State University, where he graduated summa cum laude with a bachelor of science in education in 1962.

Bob taught 7th-grade Geography at Wise Elementary School in Streetsboro from 1963-1967. From 1967-1980, he taught Spanish, his passion, at Hudson High School and soon earned the nickname "Señor" for years to come. He maintained friendships with many students from his years of teaching. Even after he opened his own antiques shop in Peninsula, The Buggy Step, he continued to substitute in the Hudson and Revere school systems. He privately tutored over 100 students from 1982-2011.

A dedicated Boy Scout, Bob earned his Eagle Scout award in 1957 and worked as a counselor at Camps Manatoc and Butler in Peninsula, where he met his wife Nancy in 1964. They married in 1969 and moved to Peninsula in 1971 to restore an 1852 farmhouse once used as a school. They welcomed their daughter Sarah in 1981, and he became "Mr. Mom" until she started kindergarten.

As a citizen of Peninsula, he served 16 years as councilman and as a member of the Boston Township Hall Committee (which restored the Boston School building).

Bob was an avid and devoted Indians fan for nearly eight decades. He made many trips to Winter Haven with his "brew crew" bros to visit spring training. He was eight years old when the Tribe last won a World Series. Hopefully he will now communicate with the baseball gods and enlist their support in a championship season to end the drought!

His love of antiques led to three decades as a dealer after he had over-collected in his own home. It is rumored that he single-handedly saved at least 10% of the 19th-century antiques.
Despite an eight-year struggle with dementia, Bob never lost recognition of Nancy and Sarah, who have been grateful for that blessing. And the one sentence that he could communicate was "I love you."

He will be missed forever by his wife Nancy (Henry) Brunswick, his loving daughter Sarah Brunswick; sister Marian Horner (Don) of Kent; sister-in-law Gloria Brunswick (Ravenna); nephews and nieces who loved their "Uncle Bobby": Gary (Holly) of Ravenna, Greg (Karen) Thorn of Medina, Candy Brunswick of Ravenna, Glenna Lemon of Ravenna, David (Laura) Horner of Kent, Daniel (Terri) of Kent, Jon (Gayle) Horner of Strongsville, Michelle (William) Sedlacek of Hudson, Jimmy Brunswick of Ravenna, and many great- and great-great-nieces and nephews. He was preceded in death by his parents, his sister Harriett Thorn, his brothers Bill Brunswick and Jim Brunswick, and his idolizing cat Rascal.

Nancy and Sarah wish to acknowledge Bob's excellent care by the staff of Heritage of Hudson (especially nurses Staci and Gwen and Bob's special aide Bridgett) and by the staff of Bella Care (Stephanie and Lisa).

Cremation has taken place. A memorial service will be held at 11:00 a.m. Saturday, May 19, 2018 at the GAR Hall in Peninsula, with a tailgate lunch to follow. If you attend the service, please feel free, but not obligated, to wear Indians gear!

Sarah is once again sponsoring a team for the Walk to End Alzheimer's on September 15, 2018. Donations may be made at http://act.alz.org/goto/BrunswickBrainiacs.
Previous Events
Memorial Service
G.A.R. Hall
1785 Main Street
Peninsula, OH 44264
Memorial Contribution